Foosball Blog News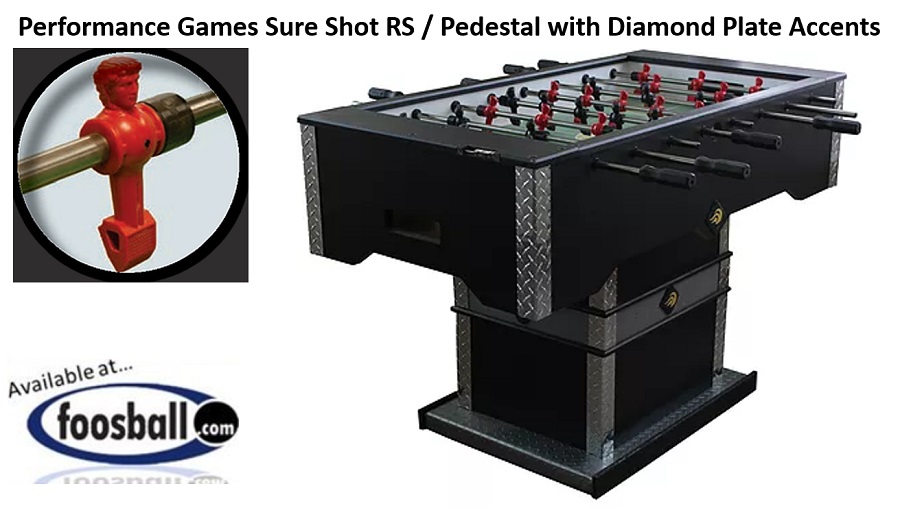 What's the best foosball table? It Depends!
Foosball, aka Table Soccer, has never been more popular and more "broad" in terms of expanding scope of foosball as a Serious Sport and Fun Challenging Game. So, your search/definition/category of foosball may steer you toward a few different answers to "what is the best foosball table?" based off of your wants/needs. Our Table experts will occasionally feature a top pick for different categories of buyers.
Here is a featured table that adds to it great play characteristics some unique looks & features that are ideal for a garage foosball table of choice!
The Sure Shot RS from Performance Games Inc. This table features top playing components from Fireball brand (Man, Ball, Playfield, Rods & Handles that have been tried, tested & tuned over years). The Cabinet is designed & constructed in US/Michigan by PGI. The durable cabinet construction, 3/4" playfield and pedestal base makes this a beefier table than most you'll find. Flush mounted minimalistic score markers allow for easier conversion of foosball "space" into workshop/garage/party room multi-use space. The diamond plate down corners should look right at home (right in the garage) next to other toys in the ultimate man cave. Down corners/details are customizable as are other cabinet features by the folks at PGI. Click here => PGI Sure Shot RS for more detailed info & pricing.
Cheers & Happy Foosing
Still looking for your perfect table? Check back for future featured top pick tables. See also FringePursuits buyers guide here.
---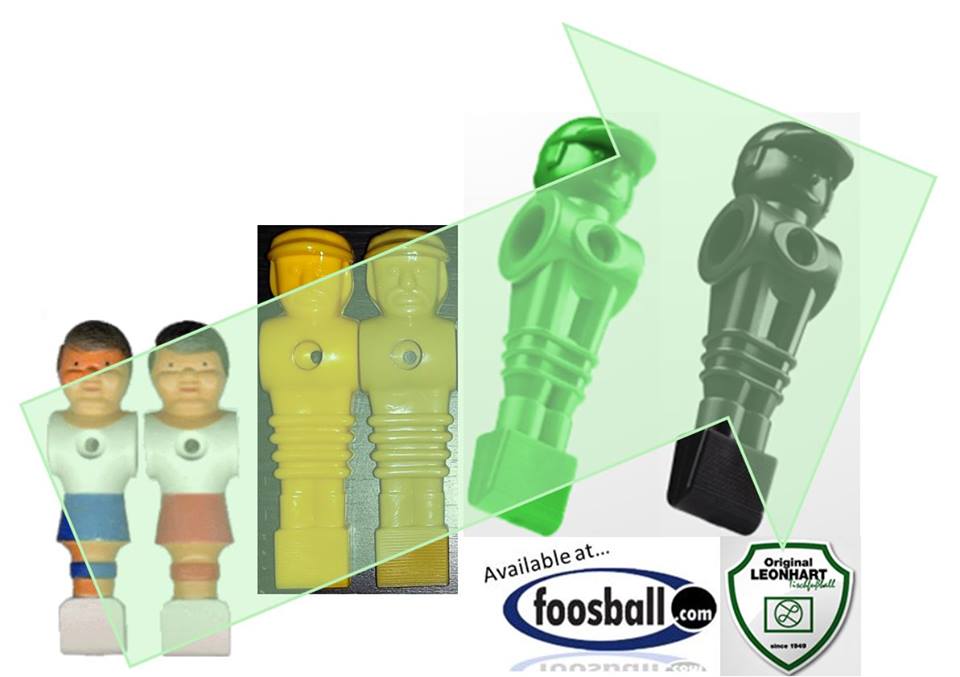 Original-Leonhart Tischfussball/Kicker/Foosball parts are now available at foosball.com ==>> http://shop.foosball.com/leonhart.html
We are trying out a batch of Leonhart foosball parts for the US distribution. These are the top German parts in use at country and international events. They are ideal for upgrades to old TS tables of the 70's, 80's and 90's, They have Green and Black tournament figure that are counter balanced and a variety of figures in different colors for home tables that are not head-weighted. The toe shape and quality are quite good. The men fit a bit loose on Tornado, but the nut/bolt used to attach them to Tornado snugs them up nicely for good playability. The Tornado rods are closer to the playfield than Leonhart rods so the height difference will be noticable vs playing on the Original-Leonhart table. Give us your feedback on these parts & bug us if you'd be a table customer!
---
Foosball is a table with 8 rods with handles and 'table soccer' men figures. Each player/team uses their handles to move their men to strike the ball into the opposing team's goal. The game is fast and fun!
Objective: Have fun! Use your figures to pass and shoot the ball into your opponent's goal while blocking the ball from going into your own goal. You serve the ball and try to score!
Game: A typical game is played to 5 points. Don't get too caught up in this though, some people play to 7 points or 9, or whatever. A match would normally consist of the first to win 2 out of best 2 out of 3 games, or maybe 3 out of 5.
Rules: Foosball rules can be simple and made up by the players or more complex created by professional foosball federations. Simple rules are to hit the ball into the goal. Complex rules include no spinning, time limits to advance the ball from each rod, and time outs during play. If you score, the other team serves. Be polite to your opponent and no swearing. Official ITSF rule book.
Tournaments: The professional players compete for hundreds of thousands of dollars ($100,000) all over the world. A typical tournament last for 3 days in which players compete against various divisions and several events.
---
Categories