Foosball Blog News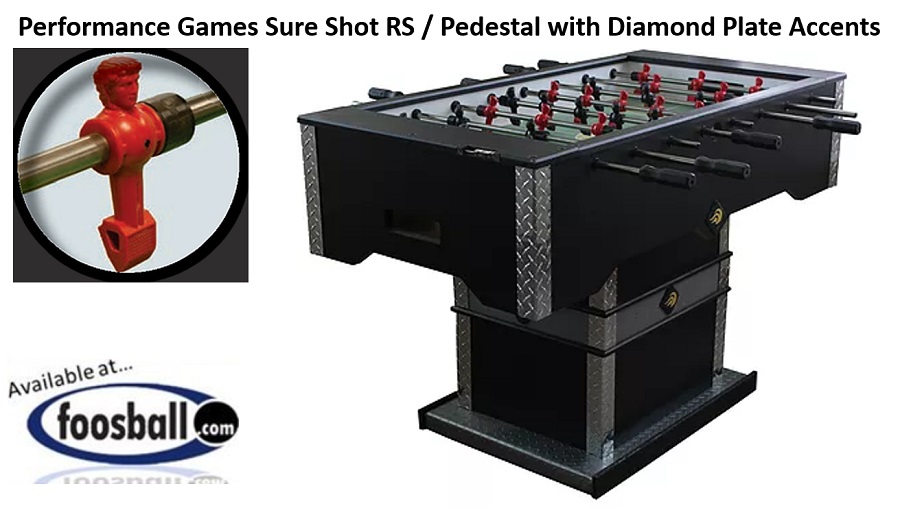 What's the best foosball table? It Depends!
Foosball, aka Table Soccer, has never been more popular and more "broad" in terms of expanding scope of foosball as a Serious Sport and Fun Challenging Game. So, your search/definition/category of foosball may steer you toward a few different answers to "what is the best foosball table?" based off of your wants/needs. Our Table experts will occasionally feature a top pick for different categories of buyers.
Here is a featured table that adds to it great play characteristics some unique looks & features that are ideal for a garage foosball table of choice!
The Sure Shot RS from Performance Games Inc. This table features top playing components from Fireball brand (Man, Ball, Playfield, Rods & Handles that have been tried, tested & tuned over years). The Cabinet is designed & constructed in US/Michigan by PGI. The durable cabinet construction, 3/4" playfield and pedestal base makes this a beefier table than most you'll find. Flush mounted minimalistic score markers allow for easier conversion of foosball "space" into workshop/garage/party room multi-use space. The diamond plate down corners should look right at home (right in the garage) next to other toys in the ultimate man cave. Down corners/details are customizable as are other cabinet features by the folks at PGI. Click here => PGI Sure Shot RS for more detailed info & pricing.
Cheers & Happy Foosing
Still looking for your perfect table? Check back for future featured top pick tables. See also FringePursuits buyers guide here.
---
Categories